F-Response TACTICAL Edition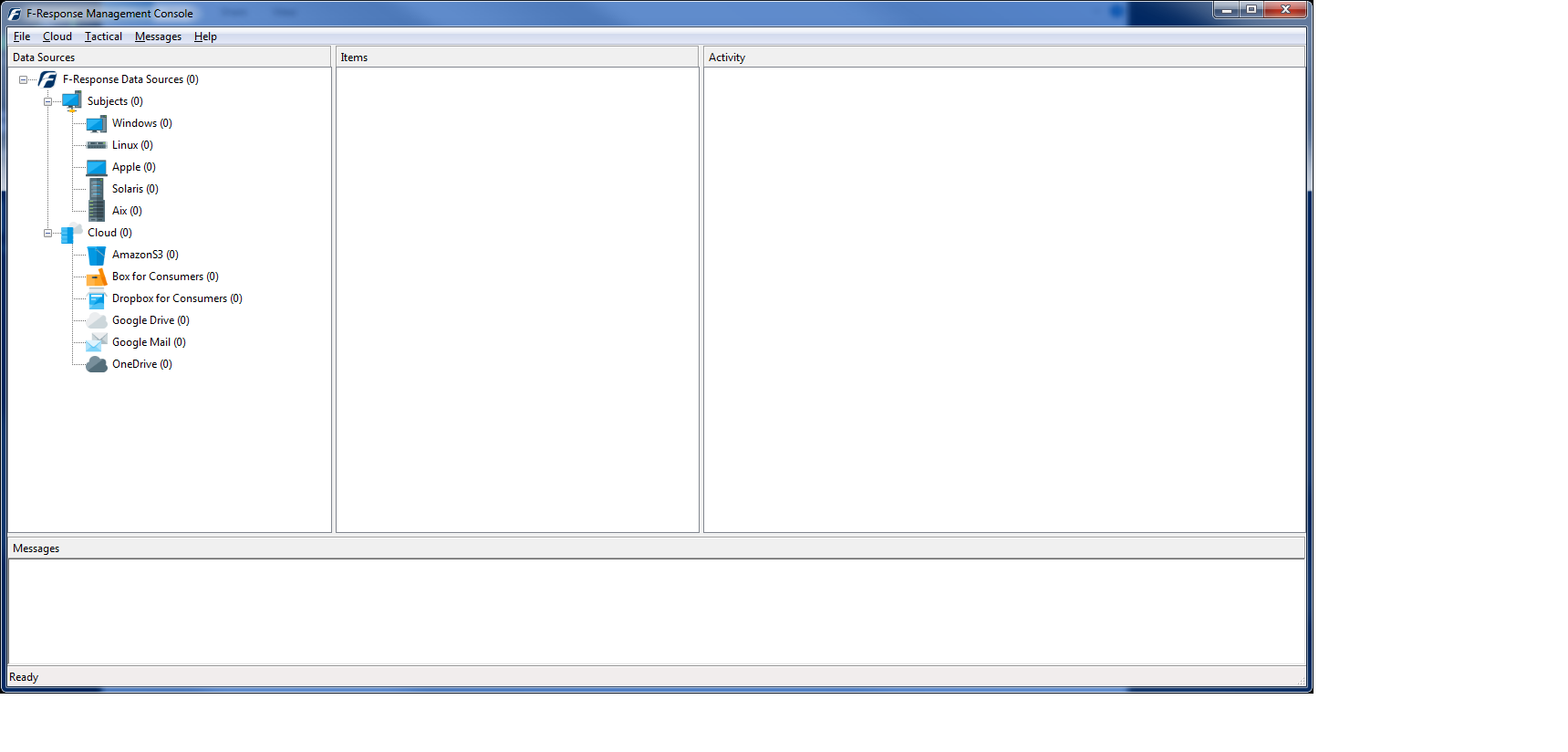 The TACTICAL Edition of F-Response is our simplest and most direct version. F-Response TACTICAL uses two licensing and software dongles to facilitate the connection to the remote machine. Essentially, you connect the Examiner software dongle to your local machine, and the Subject software dongle to your remote subject machine, then execute the appropriate software on both devices. Provided you are on the same network they should be able to connect readily and provide access to the remote subject's disks, volumes, and memory.
What is F-Response?
F-Response is a forensic, e-discovery, and incident response connection and collection application. F-Response was designed to provide direct, read-only access, to remote physical machines (disks, raid, volumes, and memory) as well as remote cloud storage providers. In addition F-Response provides a clean and simple optional imaging capability for collecting F-Response presented data from multiple sources.
How does F-Response work?
Magic.
Actually F-Response provides access to these remote data sources a variety of ways. For devices F-Response creates an AES 256bit encrypted and compressed connection to the remote machine and presents the drives or volumes of that machine as local, read-only, physical devices on your examiner machine.
How is F-Response TACTICAL different?
F-Response TACTICAL is the simplest and least feature rich version of F-Response. Simply put TACTICAL excels at simple non-covert connectivity to immediately access servers and workstations. Unlike other versions of F-Repsonse, TACTICAL is a dual dongle solution, meaning you will need to place a licensing dongle in both the examiner and subject machine.
F-Response Core Benefits
Full Live Read-Only Access, No File Level Locking
F-Response provides direct, live, read-only access to the remote target computer's disks, volumes, and in certain cases physical memory. Since all access is at the physical level there is no file level locking, F-Response gives you access to any and all content on the remote target, including protected system content (Registry files, Email PSTs, Database Files, etc).
Windows and Linux Examiner Support
F-Response includes optional installation packages complete with scriptable command line components for Linux.
Optional included Imaging capability
F-Response includes high speed scriptable imaging capability (Physical images in Expert Witness "E01" format only).
F-Response Executable and Software
The F-Response subject software functions as a single executable ("exe") on the remote target computer that requires no drivers or installation components, as well as no reboot when deployed and started. F-Response is 100% Windows 10 tested.
Industry Standard and Regulation Compliant AES 256-bit Encryption
F-Response includes industry standard support for AES 256-bit Encryption for connections. F-Response encryption is seamless and native in all versions of F-Response.
F-Response Cloud Collection
F-Response includes support for collecting file and folder content from a large number of remote cloud storage platforms, the full list is provided below in the F-Response Supports section. F-Response Cloud Collection can be configured to acquire individual folders, the entire account, or items that match a specific string. For more details on F-Response's specific collection options by provider, please see the appropriate Mission Guide on our Mission Guides and Documentation page.
F-Response Targets and Platform Support
F-Response works with all RAID disks, physical drives, logical volumes, and physical memory (32 & 64 bit Windows). In addition, F-Response TACTICAL includes target executables for Windows, Linux and Apple OSX. Furthermore based on its unique vendor neutral patented design, F-Response works with all Computer Forensics, eDiscovery and Data Recovery software packages, simply put, if your package reads from a hard drive, it will work with F-Response.
F-Response Minimum Hardware Requirements (Examiner Computer)
1 Gigahertz (GHz) processor or faster, 1 Gigabyte (GB) of RAM for 32-bit or 2 GB of RAM for 64-bit systems, at least 20 Gigabytes (GB) of Disk Space.
F-Response Supports
F-Response TACTICAL supports a limited set of remote target platforms including the following:
- Windows Includes Windows XP, 2003, Vista, 2008, 7, 8, 10, 2012, 2016, 2019, 32 and 64bit, Physical memory only supported on 32bit and 64bit Windows
- Apple OSX 10.3+ (Note: SIP must be disabled in 10.13+)
- Linux (on Intel) includes most Linux distributions built in the last 5 years
F-Response TACTICAL supports only the following set of remote cloud storage platforms:
- Azure Blob Storage, Amazon Simple Storage Services(S3), Box.com for Consumers, Dropbox for Consumers, OneDrive for Consumers, Google Drive for Consumers, Google Mail for consumers.
Purchasing F-Response
To Purchase F-Response TACTICAL online via credit card go to Purchase F-Response Software or request a quote. We do accept purchase orders following a completed credit application, to request a credit application contact F-Response Sales and Support. If you would prefer to use a local reseller you are welcome to review our list of resellers by country here.
IMPORTANT NOTE: Always remember, all renewal prices are available here on our website, and all licenses of F-Response automatically include maintenance, support, online training, enhancements, implementation assistance, and new releases throughout the term of your license.
F-Response TACTICAL Video
If you do not see video please enable mixed content in your browser.