F-Response Enterprise Edition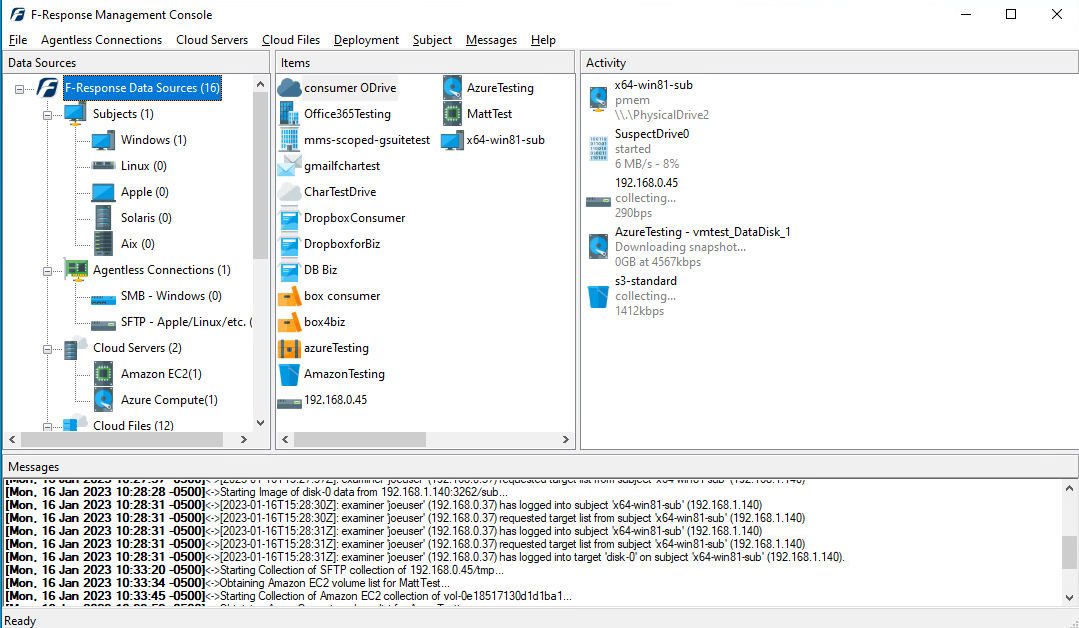 The Enterprise Edition of F-Response is our covert, service based (Non GUI), version of F-Response uniquely designed for consultants and internal corporate investigations.
What is F-Response?
F-Response is a forensic, e-discovery, and incident response connection and collection application. F-Response was designed to provide direct, read-only access, to remote physical machines (disks, raid, volumes, and memory) as well as remote cloud storage providers. In addition F-Response provides a clean and simple optional imaging capability for collecting F-Response presented data from multiple sources.
How does F-Response work?
Magic.
Actually F-Response provides access to these remote data sources a variety of ways. For devices F-Response creates an AES 256bit encrypted and compressed connection to the remote machine and presents the drives or volumes of that machine as local, read-only, physical devices on your examiner machine.
How is F-Response Enterprise different?
F-Response Enterprise is the unlimited covert subject version of F-Response. Simply put this means with F-Response Enterprise edition there is no limit to the number of remote covert subjects at any given time. In addition, F-Response Enterprise deployment and connectivity was designed to be covert and efficient allowing the investigator to access multiple machines quickly without concern for alerting the end user.
I'm a consultant, can I use F-Response Enterprise on site at a client?
Yes! F-Response was designed by consultants for consultants. Our licensing allows you to use F-Response Enterprise while onsite at your client or while connected to them through a virtual private network. Interested in using F-Response Enterprise as part of an inexpensive Managed Services offering? Check out our complete pdf/xps on leveraging F-Response to extend your consulting practice over the Internet.
F-Response Core Benefits
Full Live Read-Only Access, No File Level Locking
F-Response provides direct, live, read-only access to the remote target computer's disks, volumes, and in certain cases physical memory. Since all access is at the physical level there is no file level locking, F-Response gives you access to any and all content on the remote target, including protected system content (Registry files, Email PSTs, Database Files, etc).
Windows and Linux Examiner Support
F-Response includes optional installation packages which include scriptable command line components for Linux.
Optional included Imaging capability
F-Response includes optional high speed scriptable imaging (Physical images in Expert Witness "E01" format only).
F-Response Executable and Software
The F-Response Enterprise functions as a single executable ("exe") on the remote target computer that requires no drivers or installation components, as well as no reboot when deployed and started. F-Response is 100% Windows 10 tested.
Industry Standard and Regulation Compliant AES 256-bit Encryption
F-Response includes industry standard support for AES 256-bit Encryption for connections. F-Response encryption is seamless and native in all versions of F-Response.
F-Response Cloud Collection
F-Response includes support for collecting file and folder content from a large number of remote cloud storage platforms, the full list is provided below in the F-Response Supports section. F-Response Cloud Collection can be configured to acquire individual folders, the entire account, or items that match a specific string. For more details on F-Response's specific collection options by provider, please see the appropriate Mission Guide on our Mission Guides and Documentation page.
F-Response Agentless Connections
F-Response includes support for collecting file and folder content from remote SMB and SFTP shares. This includes both NAS devices, and remote Windows, Linux, and Apple servers. For more details on F-Response's specific SMB and SFTP collection options, please see the appropriate Mission Guide on our Mission Guides and Documentation page.
F-Response Targets and Platform Support
F-Response works with all RAID disks, physical drives, logical volumes, and physical memory (32 & 64 bit Windows). In addition, F-Response Enterprise includes target executables for over ten (10+) operating system environments, including exotic hardware such as IBM AIX and Solaris. Furthermore based on its unique vendor neutral patented design, F-Response works with all Computer Forensics, eDiscovery and Data Recovery software packages, simply put, if your package reads from a hard drive, it will work with F-Response.
F-Response Licensing and Usage
F-Response Enterprise includes unlimited installations, connections, and examiners for a period of one or three year(s) from the date of purchase. Software will cease to function at the end of the license duration unless renewed. In addition, F-Response Enterprise Edition includes a license for F-Response Consultant, Field Kit Edition, and allows true many-to-many connectivity from any examiner platform.
F-Response Scripting and Programming
F-Response Enterprise Edition uses a simple JSON POST style RPC mechanism. This means that local scripting of F-Response is accessible from just about any scripting language that can send and receive HTTP JSON POSTs with JSON data. Learn more about the F-Response API here.
F-Response Minimum Hardware Requirements (Examiner Computer)
1 Gigahertz (GHz) processor or faster, 1 Gigabyte (GB) of RAM for 32-bit or 2 GB of RAM for 64-bit systems, at least 20 Gigabytes (GB) of Disk Space.
F-Response Supports
F-Response Enterprise supports the largest array of remote target platforms including the following:
- Windows Includes Windows XP, 2003, Vista, 2008, 7, 8, 10, 11, 2012, 2016, 2019, 32 and 64bit, *Physical memory is only available for 32bit and 64bit Windows subjects
- Apple OSX 10.3+ (Note: SIP must be disabled in 10.13+)
- Linux (on Intel) includes most Linux distributions built in the last 5 years
- Solaris includes Solaris 10 on SPARC and Intel
- IBM AIX includes AIX 6.1+ on the Power processor
F-Response Enterprise supports a number of remote cloud storage platforms including the following:
- Azure Blog Storage, Amazon Simple Storage Services (S3), Box.com for Business, Box.com for Consumers, Dropbox for Business, Dropbox for Consumers, Google Drive for Consumers, Google Mail for Consumers, GSuite, Microsoft OneDrive for Consumers, Office365 OneDrive
Arrange a Demonstration/Trial
Interested in trying F-Response Enterprise risk free in your environment? Use this link to contact Sales and arrange a brief GoToMeeting demonstration, after which we can schedule access to a virtual dongle on our licensing server so you can test how F-Response Enterprise performs in your environment.
Purchasing F-Response
To Purchase F-Response Enterprise Edition online via credit card go to Purchase F-Response Software or request a quote. We do accept purchase orders following a completed credit application, to request a credit application contact F-Response Sales and Support. If you would prefer to use a local reseller you are welcome to review our list of resellers by country here.
IMPORTANT NOTE: Always remember, all renewal prices are available here on our website, and all licenses of F-Response automatically include maintenance, support, online training, enhancements, implementation assistance, and new releases throughout the term of your license.
F-Response Enterprise Edition Video
F-Response Examiner Tools for the Linux Platform (CLI)
F-Response Examiner Tools for the Linux Platform (Graphical Interface)
F-Response Examiner Tools for the Linux Platform (Accelerator)